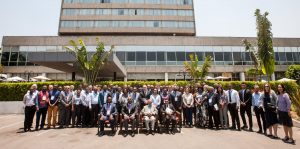 Collaborating to leverage R&E network infrastructures between Africa, Brazil, and the U.S.
October 31- November 1, 2019Dr. Heidi Morgan presented "Collaborating to leverage R&E network infrastructures between Africa, Brazil, and the U.S." introducing the AmLight-South Atlantic Cable System (SACS) project at the UbuntuNet Connect 2019 Conference which took place in Antananarivo, Madagascar on October 31- November 1, 2019. The presentation and white paper for the conference were written in collaboration with colleagues from FIU, RNP, and TENET/ SANReN. Dr. Morgan also participated in a roundtable discussion focused on the roles of different key players in the promotion of collaboration in the digital space. The moderator for the session was RENU CEO, Nicholas Mbonimba. UbuntuNet-Connect, the annual conference of UbuntuNet Alliance, has the theme: NRENs: "Facilitating Collaboration in the Digital Space." The conference was hosted by the Research and Education Network for Academic and Learning Activities, iRENALA, the NREN of Madagascar. UbuntuNet-Connect brought together practitioners in the research and education networking community, researchers, policymakers, academicians, connectivity providers, and a pool of expertise from across Africa and beyond … Read More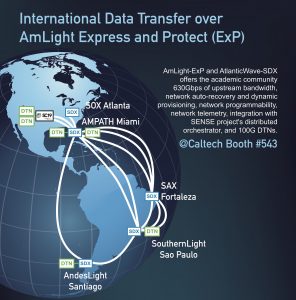 International Data Transfer over AmLight Express and Protect (ExP) at Supercomputing Conference (SC19)
November 17-22, 2019The AmLight-ExP Network Engineering Team participated in multiple collaborative SC19 Network Research Exhibitions at the Supercomputing Conference (SC19) which took place on November 17-22, 2019 at the Colorado Convention Center, in Denver, Colorado. AmLight-ExP and AtlanticWave-SDX offered the academic community 630Gbps of upstream bandwidth, network auto-recovery and dynamic provisioning, network programmability, network telemetry, integration with SENSE project's distributed orchestrator, and 100G DTNs … Read More
How did this packet get here?
December 9-12, 2019Jeronimo Bezerra presented "AmLight-INT: In-band Network Telemetry @ AmLight" at the Internet2's annual Technology Exchange conference which took place in New Orleans, LA on December 9-12, 2019. the event is a premier technical event in the global R&E community, convening technology visionaries (technologists, architects, scientists, researchers, engineers, operators, and students) from around the world, for 3.5 days of presentations and discussions focusing on the next generation of federated trust and identity, information security, and advanced network design … Read More
50 years of the Internet: The contribution of RNP to the birth of the Internet in Brazil
December 16, 2019On October 29th, RNP celebrated 50 years since the creation of the Internet. The date is a reference to the beginning of ARPANET operations, a project led by researchers from universities in the United States. In only a few years, this network has evolved to the Internet as we know today and that we learned to love, tolerate or hate. We should recognize that it appeared to radically change our world. But the purpose here is to call attention to Brazilians' contributions in bringing this technology to the country, after the release of Rede Nacional de Pesquisa (RNP), as a project of the federal government, in September of 2019, i.e. for 30 years … Read More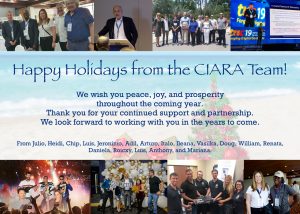 Happy Holiday Season from the CIARA Team!
The CIARA Team wishes you peace, joy, and prosperity throughout the coming year. Thank you for your continued support and partnership. We look forward to working with you in the years to come.
From Julio, Heidi, Chip, Luis, Jeronimo, Adil, Arturo, Italo, Ileana, Vasilka, Doug, William, Renata, Daniela, Roicxy, Luis, Anthony, and Mariana.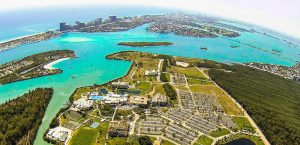 [SAVE the DATE] South American Astronomy Coordination Committee (SAACC) Meeting April 22, 2020, in Miami, FL

The AmLight SAACC meeting is scheduled for Thursday, April 22nd, 2020, in Miami, Florida. The meeting will take place at the Kovens Conference Center (3000 Northeast 151st Street, North Miami, FL 33181). CIARA/FIU will also support virtual participation through ZOOM. Please, register here, if you would like to participate … Read More
Please email us at ciara@fiu.edu for news and events contributions to be included in the future quarterly newsletters.
AmLight-ExP is supported by the National Science Foundation (NSF) award OAC-1451018