In response to the growing network requirements of these U.S.-Latin America collaborative science research activities, the Americas Lightpaths Express and Protect (
AmLight ExP
) project implements a hybrid network strategy that combines the use of optical spectrum (Express) and leased capacity (Protect), in order to build a reliable, leading-edge network infrastructure for research and education. The total production bandwidth provided by AmLight ExP between the U.S. and South America will grow to more than 680G over the next five years….
Read More
FIU awarded for AMLIGHT to provide an Advanced International Network for the Large Synoptic Survey Telescope (LSST) through 2031. 
Read More…
vassi
November 20, 2018 – The LSST Network Engineering Team (NET) […]
vassi
The AmLight Team participated in multiple Network Research Exhibition (NRE) […]
vassi
The new link that goes from Miami to Panama City […]
AmLight Project (2010-16)
Americas Lightpaths, AmLight, enables research and education amongst the people of the Americas. The enablement is through the operation of production infrastructure for communication and collaboration between the U.S. and Western Hemisphere science and engineering research and education communities. 
Read more…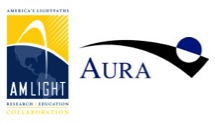 Award #1451018
 . Any opinions, findings, and conclusions or recommendations expressed in AmLight ExP materials are those of the author(s) and do not necessarily reflect the views of the National Science Foundation.