NSF Distinguished Lecture series announcement
Dr. Julio Ibarra will be presenting the "Americas-Africa Lightpaths Express and Protect (AmLight-ExP) Networks" at the National Science Foundation (NSF) CISE Distinguished Lecture Series on January 13, 2022, 11:00 -12:00 AM … Register here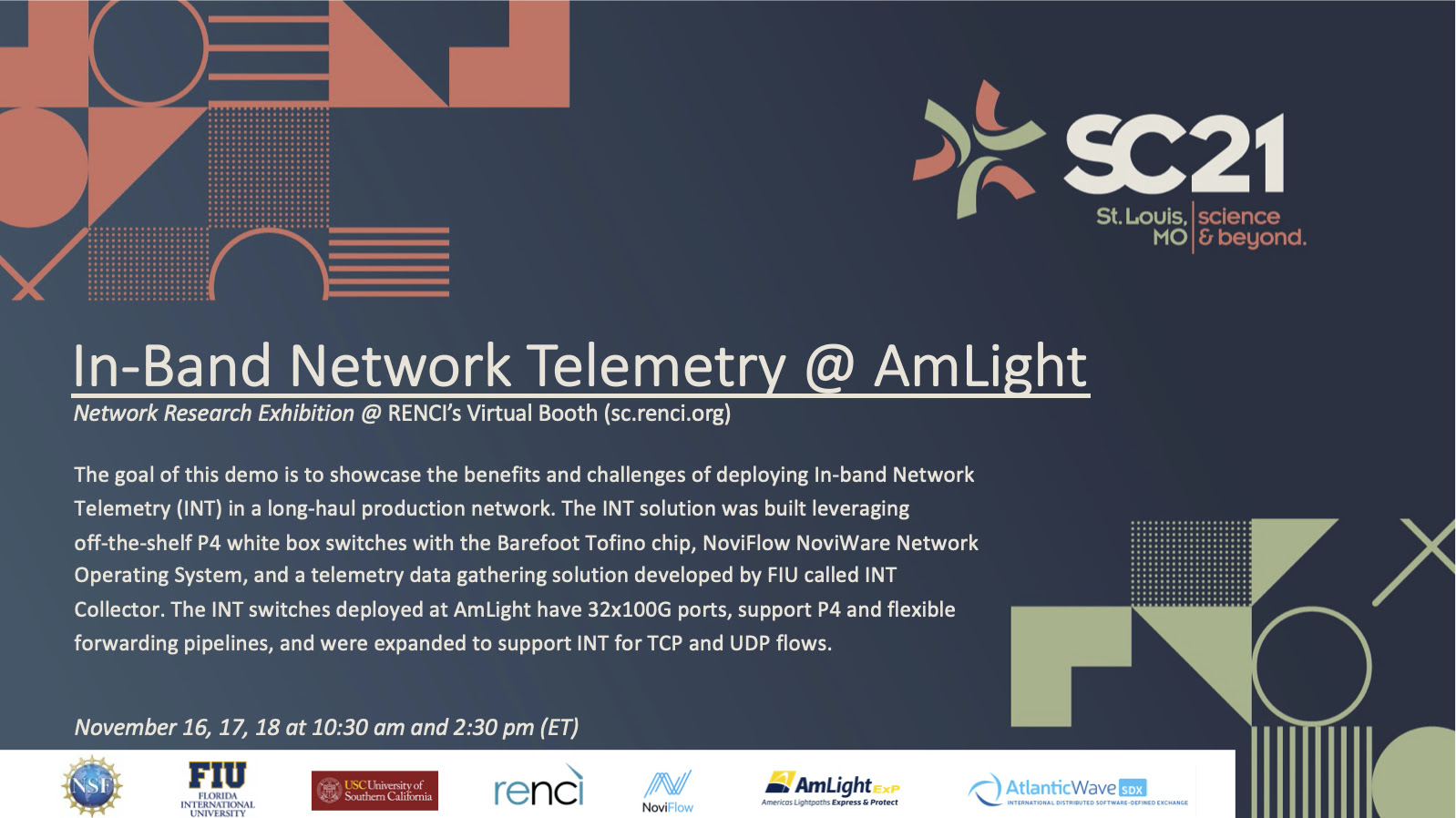 In-Band Network Telemetry @ AmLight demo at Supercomputing Conference SC21
November 16-18, 2021
The goal of this demo was to showcase the benefits and challenges of deploying In-band Network Telemetry (INT) in a long-haul production network. Join a live demo by clicking the button below during the designated times. The INT solution was built leveraging off-the-shelf P4 white box switches with the Barefoot Tofino chip, NoviFlow NoviWare Network Operating System, and a telemetry data gathering solution developed by FIU called INT Collector. The INT switches deployed at AmLight have 32x100G ports, support P4, and flexible forwarding pipelines, and were expanded to support INT for TCP and UDP flows … Read more

Keeping Networks Innovative Together (KNIT) Winter '21: A FABRIC Community Workshop
December 8-9, 2021
During the workshop, the FABRIC team demonstrated new platform highlights, beta testers showcased their early experiments and demonstrated how to set up an experiment. Facility partners shared their early experiences in FABRIC infrastructure deployment and operation. Jeronimo Bezerra presented "AtlanticWave-SDX: Extending FABRIC to Florida, Latin America, and Africa" at the session Going Beyond FABRIC: Federated Testbeds II. The community explored experimentation across FABRIC and other NSF testbeds in this session. The highlight included international networks, ESnet's SENSE project, connection to HPC, and Internet2's connection to commercial clouds … Read More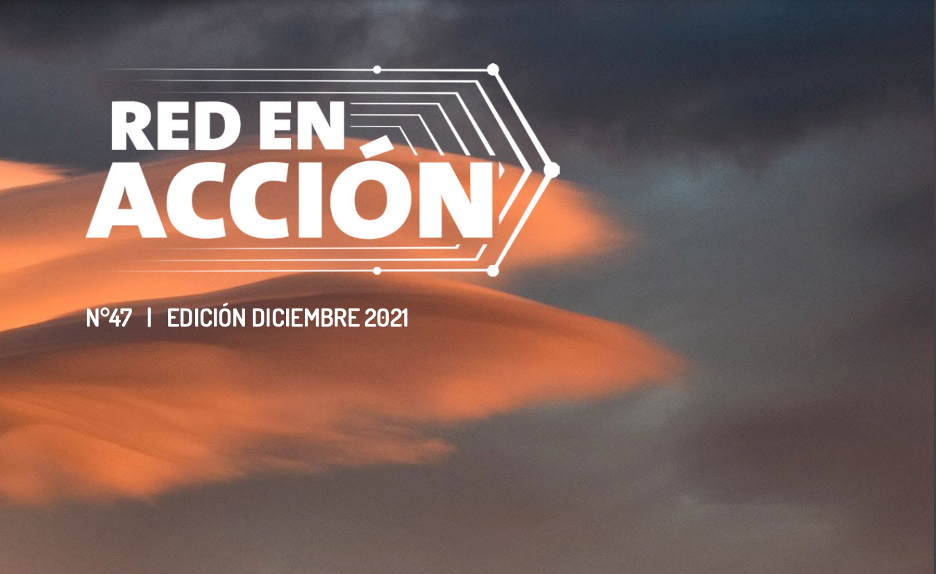 New Cybersecurity Group of the Academic Networks of Latin America
December 2021
REUNA's December Network in Action edition includes updates on the development of the "Patagonia Project," Cybersecurity Group of the Academics networks of Latin America, consideration of the Magallanes region as a territory of Science, Research and Global conservation, and more … Read More (Spanish)


AMPATH Joins MANRS Initiative to Improve Routing Security
December 2021
In December 2021, AMPATH (AS20080) became a Network Operator member of the Mutually Agreed Norms for Routing Security (MANRS), a global initiative supported by the Internet Society (ISOC) that propagates actions to reduce routing security threats. The AMPATH and AmLight community members benefit from the increased security of elements that connect to the Internet, thus reducing vulnerability to malicious attacks and increasing the robustness of the global routing table used for data traffic worldwide … Read More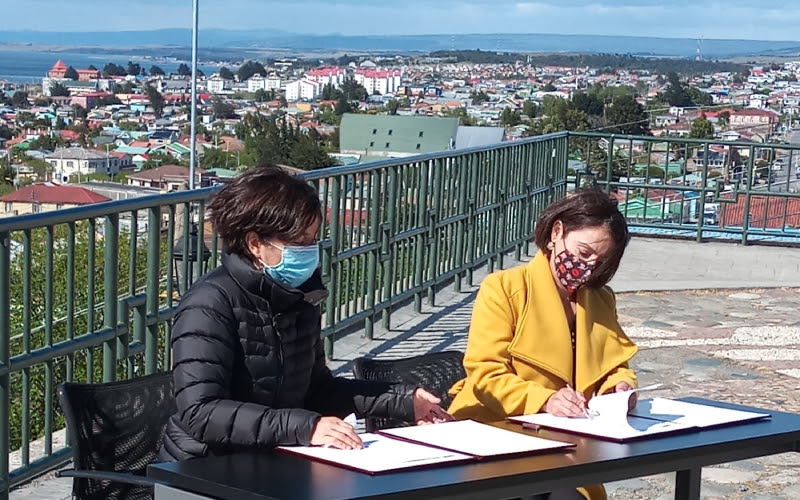 ANID and REUNA join forces to develop the "Patagonia Project"
December 2021
The Austral Macrozone is a third of Chile's surface, it has a high scientific potential with national and global impact, it fulfills a strategic role to face the Climate Crisis and it has global comparative advantages (Ice Fields, Antarctica, subantarctic and pristine territory); however, it is one of the few geographical areas on the planet that is digitally disconnected, without being possible to carry out data traffic with the necessary speed … Read More
SC22 WINS Call for Participation
Submission deadline: January 21, 2022
The Women in IT Networking at SC (WINS) program is seeking qualified female candidates in their early- to mid-career to join the SCinet volunteer workforce for the Supercomputing 2022 Conference (SC22), to be held in Dallas, Texas November 13-18, 2022. WINS strives to have diverse representation of organizations and applicant backgrounds in the cohort each year.  Selected candidates will receive full travel support and mentoring by well-known engineering experts in the research and education community before, during and after the conference … Read More
LACNIC announces FTL2022 calls for papers
LACNIC is calling the Internet community to submit until February 16th their proposals for presentations to be included on the LTF agenda during our upcoming LACNIC 37 event. The event will be held in hybrid format on 2 to 6 May 2022 in Cali, Colombia, provided that the health situation allows it … Read More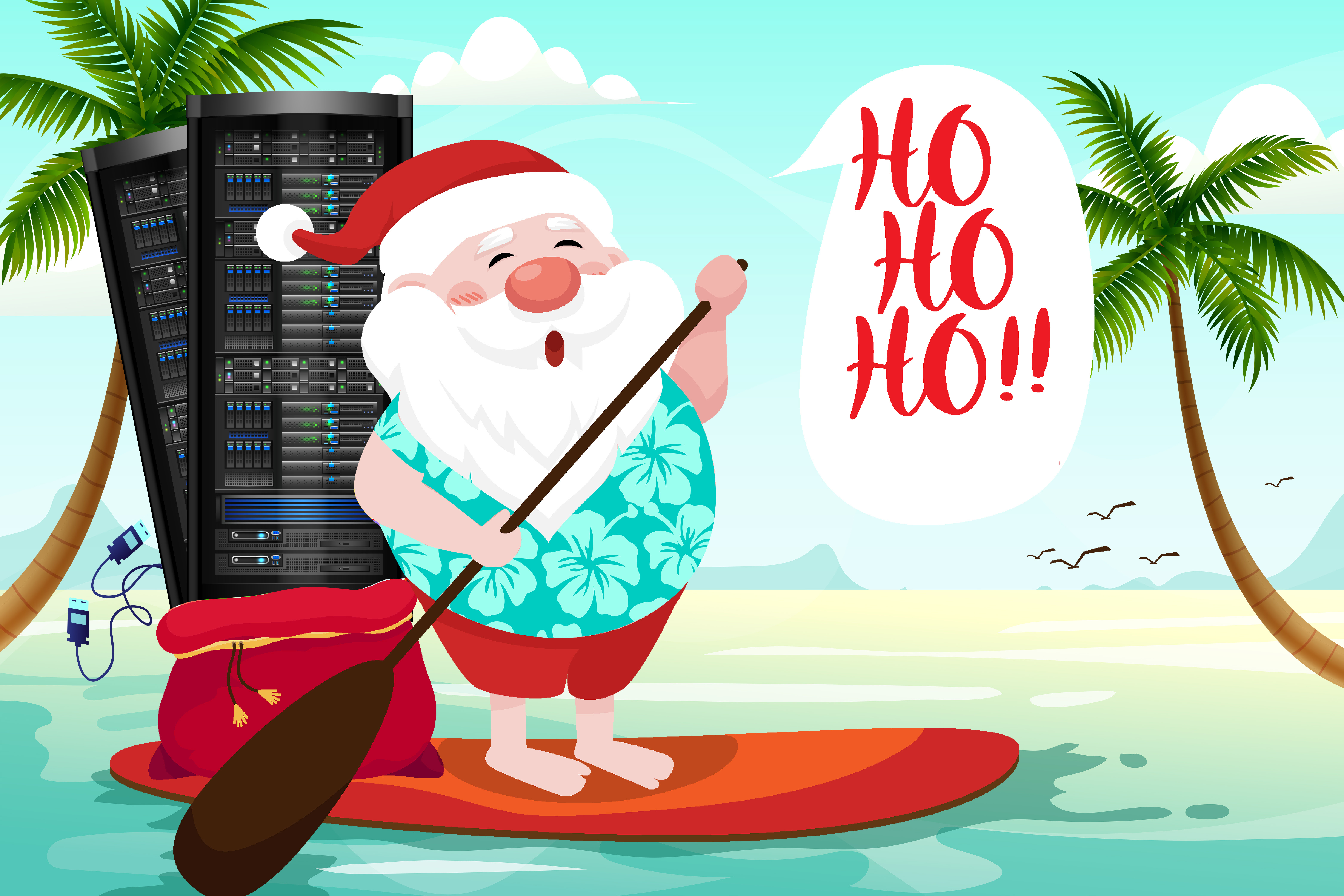 The AmLight Team wishes you the happiest and healthiest holiday!
Thank you for your continued support and partnership. We look forward to working with you in the years to come.
From Julio Ibarra, Heidi Morgan, Chip Cox, Luis Lopez, Jeronimo Bezerra, Italo Valcy, Luis Vera, David Miranda, Renata Freez, Ileana Gonazlez, Vasilka Chergarova, Doug Pitts, Maritriny Espina, David Ramirez, Anthony
Please email us at ciara@fiu.edu for news and events contributions to be included in the future quarterly newsletters.
AmLight-ExP project is supported by NSF Award #1451018 and #2029283. Any opinions, findings, and conclusions or recommendations expressed in AmLight ExP materials are those of the author(s) and do not necessarily reflect the views of the National Science Foundation.