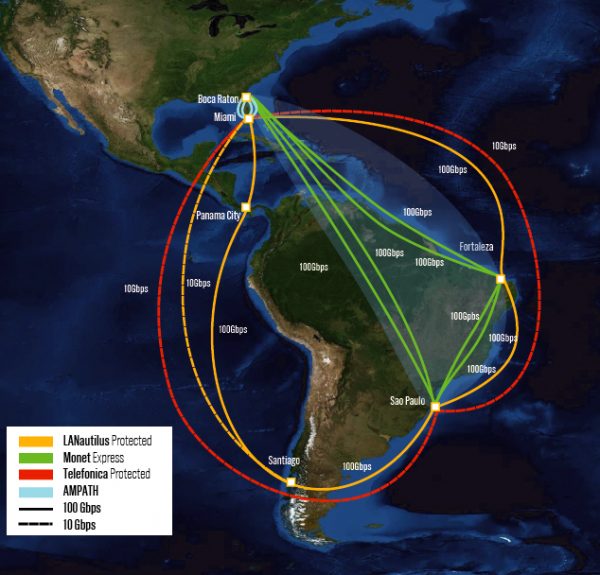 AmLight Express and Protect project adds three 200Gbps optical waves for Research and Education between the U.S. and Brazil
August 30, 2019Florida International University (FIU), Rede Nacional de Ensino e Pesquisa (RNP), Academic Network of Sao Paulo (ANSP), the Association of Universities for Research in Astronomy (AURA), and Angola Cables are pleased to announce the addition of three 200Gbps optical waves for research and education between the U.S. and Brazil. These three 200Gbps optical waves represent the Express path of the AmLight Express and Protect (AmLight-ExP) project, a 5-year National Science Foundation (NSF) award to FIU (OAC-1451018), and with support from AURA, and the AmLight Consortium … Read More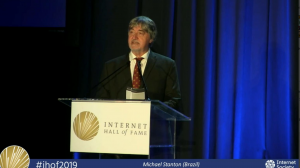 Dr. Michael Stanton became part of the Internet Hall of Fame
September 30, 2019
Further proof of the importance of science, technology, and innovation in Brazil.  Dr. Michael Stanton, the RNP network scientist, became part of the Internet Hall of Fame in a ceremony held in Costa Rica. This was a recognition for his contributions in bringing the Internet to Brazil and for participating in the design and deployment of scalable optical networks in South America and in the intercontinental connections. "Being part of this work prides me, especially for boosting the development of teaching, research and innovation in the country," Stanton said. Michael was one of eleven pioneers and visionaries honored for giving their extraordinary contributions to the global growth of the Internet. Dr. Stanton joined other industry stars in the Internet Hall of fame, such as Demi Getschko of CGI.br, and Tadao Takahashi, the first RNP project coordinator, who had the same recognition of the Internet Society on behalf of Brazil, in previous editions. For 30 years, RNP has maintained its efforts to connect people and institutions in an environment that enables the production of knowledge and innovation. We believe that science and technology are the strategic basis for the future of the country … Read More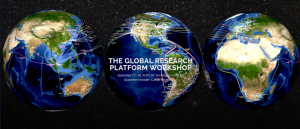 Global Research Platform Workshop (GRP)
September 17-19, 2019
The Global Research Platform Workshop (GRP) and Global Network Advancement Group (GNA-G) Meeting was held on 17-19 September 2019 at the Calit2-Qualcomm Institute, University of California San Diego, La Jolla, United States. The GRP is an evolving effort, focused on design, implementation, operation strategies for next-generation distributed services, network infrastructure, and interoperable Science DMZs on a global scale to facilitate data transfer and accessibility. The GRP Workshop highlighted global science drivers and their requirements, high-performance data fabrics and distributed cyberinfrastructure, including advanced networks customized to support scientific workflows … Read More
FABRIC project launches with $20 Million NSF grant to test a reimagined Internet
September 17, 2019
Florida International University (FIU) is a participating site for the FABRIC project as a Science Design Driver and Resource Provider.  Additionally, FABRIC will be connected to the AmLight network for international research collaborations with researchers in South America and the Caribbean.
The National Science Foundation (NSF) announced a collaborative project to create a platform for testing novel internet architectures that could enable a faster, more secure Internet. FABRIC will provide a nationwide testbed for reimagining how data can be stored, computed and moved through shared infrastructure. FABRIC will allow scientists to explore what a new Internet could look like at scale and will help determine the internet architecture of the future … Read More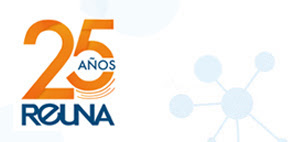 Congratulations to REUNA on its 25th anniversary!
July 7, 2019
Since its creation, REUNA has been a pioneer in the use and implementation of ICT as a vital tool for the development of higher education, research, and innovation in Chile. Initially REUNA connected universities, today it is expanding those connections to main astronomical observatories in Chile along with many research centers of excellence  … Read More
South American Astronomy Coordination Committee (SAACC) Meeting 2019 in Santiago, Chile
The SAACC meeting report is available online here or for download as a PDF. The LSST NET face-to-face meeting report is close to completion and will be shared with the participants soon.
Please email us at 
ciara@fiu.edu
 for news and events contributions to be included in the future quarterly newsletters.