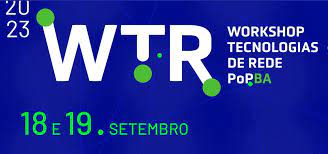 During September 18th and 19th, 2023, the XIV PoP-BA Network Technologies Workshop warmly welcomed attendees for an engaging in-person meeting. This exclusive event was thoughtfully curated for ICT area managers and technical teams, hailing from key educational and research institutions in Bahia, both public and private. This included PoP-BA clients, RNP system subscribers in Bahia, and members of the Remessa network. It offered an exceptional occasion to enrich knowledge and foster valuable connections within the vibrant ICT community.
Italo Valcy da Silva Brito presented the latest updates on the Kytos-ng release "Kytos-ng at AmLight: the new generation of SDN orchestrator"
Kytos-ng (Kytos next generation) is a fork of Kytos project, created to continue the development of Kytos after the original project was shut down. Its main purpose is to be the next controller of Amlight, and we will keep things as generic as possible so it can be used by anyone.
Kytos SDN Platform is the fastest way to deploy an SDN Network. With this you can deploy a basic OpenFlow controller or your own controller. Kytos was designed to be easy to install, use, develop and share Network Apps (NApps). Kytos is incredibly powerful and easy, its modular design makes Kytos a lightweight SDN Platform.
Kytos is conceived to ease SDN controllers development and deployment. It was motivated by some gaps left by common SDN solutions. Moreover, it has strong tights with a community view, so it is centered on the development of applications by its users. Thus, our intention is not only to build a new SDN solution, but also to build a community of developers around it, creating new applications that benefit from the SDN paradigm. The project was born in 2014 and has been under active development since 2016.
Video recording (Portuguese) can be found here.
Slides (English) can be found here.