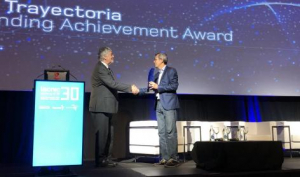 The network scientist and former director of the National Rede de Ensino e Pesquisa (RNP), Michael Stanton, received the Trajectory Award 2018, from the Internet Address Registry for Latin America and the Caribbean (LACNIC), for his contribution to the development of the Internet in the region. The award was presented at a ceremony held in Rosario, Argentina, on September 27, during the annual LACNOG event, a community of network operators in Latin America and the Caribbean.
Michael Stanton is the third Brazilian to receive recognition from LACNIC, after Demi Getschko, advisor to the Brazilian Internet Steering Committee (CGI.br), in 2012; and Carlos Afonso, executive director of the Nupef Institute (Nucleus of Research, Studies and Training), in 2010. According to LACNIC, Michael received the award for his efforts to promote the development of the Internet in the region and particularly in Brazil.
The Trajectory Award was created in 2009 and, since then, it was given to 19 leaders from 13 countries in Latin America. The jury committee considers contributions in the fields of Internet governance, promotion of the collaborative model, development of technical capacities, promotion of the use and development of standards on the Internet and promotion of the digital economy in the Latin American and Caribbean region.
About Michael Stanton
Michael Stanton served as Director of Research and Development of the RNP in the period between 2002 and 2018. Doctor of Mathematics at the University of Cambridge, he was a professor at the Pontifical Catholic University of Rio de Janeiro (PUC-Rio) and the Federal University Fluminense UFF). He contributed to the academic research in architecture and computer network engineering.
Following the launch of NSFNET, a network of the National Science Foundation (NSF) that interconnected universities and research laboratories in the United States in the 1980s, Michael defended the creation of an academic network in Brazil. The result of this mobilization was the emergence of the RNP project, in 1989; Michael participated in his coordination until 1993 and returned to the organization in 2001, as director of Innovation, and, later, as director of R & D.
Among its pioneering projects are the redesign of the internal networks of the PUC-Rio and the UFF, the Red-Río (Bitnet and Internet phases), the experimental fiber optic network of the GIGA project and the metropolitan network of Belém do Pará (MetroBel). Currently, Michael is dedicated to the construction project of the new RedCLARA backbone, which integrates the academic networks of Latin America, and is involved in projects for new intercontinental submarine cables.