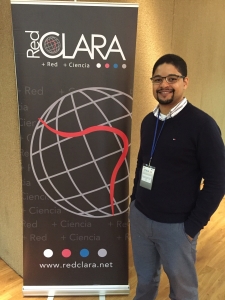 Dr. Julio Ibarra presented "AmLight Express and Protect: Sirviendo comunidades de investigación y educación entre EEUU y America Latina" in Spanish at TICAL 2016. The theme was about the AmLight-ExP project and the 100G network infrastructure.
In addition to that, Humberto Galiza, AmLight Senior Network Engineer, presented "Deploying SDN experiments in Latin America: the ONOS and SDN-IP application use case at AmLight" also in Spanish.
TICAL is a Network of ICT Directors from Latin American universities created in 2011 by RedCLARA. The sixth edition of the TICAL Conferences took place in Buenos Aires, Argentina, with approximately 300 participants from different countries in Latin America.
Discussions about how big data and predictive analytics can change the global Information and Communication Technologies (ICT) scenario and the importance of collaborative security set the tone on the first day of the activities of the event. Network & mobile infrastructure, academic services, services to support institutional management, and the governance & legal aspects for the delivery of technology services of ICT are the dominant themes of the TICAL Community. The conference also opened up the possibility of making connections between institutions, thus promoting the creation of collaboration links in order to make the most of the synergies in the group.
For Dr. Julio Ibarra presentation click here.
For Humberto Galiza presentation click here.
For more information about TICAL2016 and its program, visit https://eventos.redclara.net/indico/event/659/