ON.LAB and FIU/AmLight are pleased to announce that ONOS and SDN-IP are up and running in a slice on the AmLight network.
AmLight currently interconnects Latin America Research and Education Networks (RENs) to the U.S. RENs, such as Internet2 and EsNet.
The current testbed facility interconnects three Research and Educational Networks from different countries: Red Universitaria Nacional in Chile, Academic Network of Sao Paulo in Brazil and Latin American Cooperation of Advanced Networks. RNP – the Brazilian National Research and Education Network will be joining the testbed in the next few weeks. These Research and Education Networks can now exchange L3 routes via BGP through a pure OpenFlow network without any need of routers in the core. With a second instance of ONOS / SDN-IP deployed at Internet2, traffic can now also reach different Universities in the U.S.
This effort takes advantage of ON.LAB's ONOS and SDN-IP software in conjunction with AmLight's ability to create virtual network slices using Internet2's FlowSpace Firewall.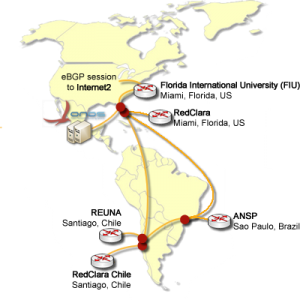 Geographical map of the ONOS / SDN-IP deployment on the FIU/AmLight network

Architectural diagram of the ONOS / SDN-IP deployment on FIU/AmLight network
This is another important milestone for demonstrating that ONOS can effectively control real production networks today and scale-up to support the growth in the network, users and traffic.